Lucca to Siena - Hotel to Hotel Trek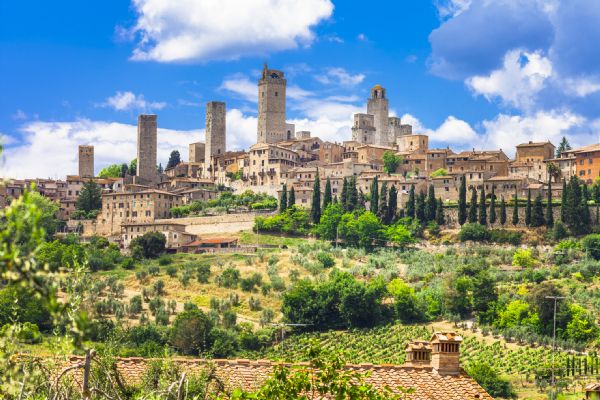 Upon leaving this intriguing place, you walk through the heartland of beautiful Tuscan landscapes, immersing yourself in classic rolling hills and enticing Chianti vineyards. Each of your overnight stops offers a unique historical experience, most of which are located upon charming hilltops with sprawling views.
Following mule tracks, country lanes and rolling vineyards, each days walk offers a pleasant addition to your journey. Gentle walking leads you through medieval villages many with opportunities to visit historical churches, parsonages and other points of cultural interest.
Our standard itinerary for this section is 9 nights with your last night spent in Siena. Extra nights can be added along the trek, we particularly recommend adding extra nights in Lucca and Siena allowing you more time to explore these fascinating cities and treat yourself to the artistic and gastronomic delights of Tuscany.
The Walking
Walking this section of the Via Francigena involves average daily distances of approximately 10 miles and follows well marked paths with good surfaces. We provide a step by step guide to the trek and location of your overnight hotel along with other supporting notes such as language and history. The itinerary below has a brief summary of each day along with ascent, descent, distance and time figures.
Self-Guided & Guided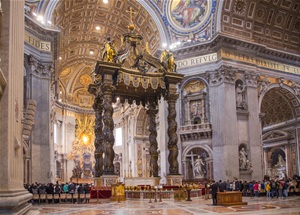 We offer this trek on a self-guided and guided basis. If you are familiar with the Camino de Santiago, you will know that it is well way-marked and there is no real need for a guide. In contrast, the Via Francigena is less well way-marked (although our route notes and maps provide you with the information you need) and we can recommend a local guide, certainly for larger groups who would enjoy some extra assistance and local knowledge. Please enquire for a guided walking supplement.
Baggage Transfers
Luggage can be transported from hotel-to-hotel enabling you to travel with just a day rucksack. Unlike our other treks, baggage transfer is an optional extra as many Pilgrims prefer to travel light and carry their own. There is a limit of 20kg per bag. See prices below.
Variations
Our basic itinerary can be varied when possible. You may take rest days in one of the existing stops or stay longer in some of the delightful villages if you wish. You can also combine two days into one if you are happy with walking longer distances. Just contact us with your wishes and we will provide a quotation.
Moderate. Total ascents = 2764m. Total descents = 2427m. Total distance = 85.75 miles / 137km (average daily distance of 10 miles).

Send us an enquiry now

Click to View Accommodation Details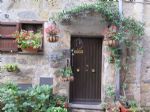 Your hotels have been selected to be friendly, welcoming and comfortable.
We offer standard and higher grade hotel options all of which have private bathrooms. Our standard grade accommodations are generally 2-3* in category. The higher graded options utilises superior accommodation (where available) that is generally 3* hotels or good quality agriturismos. You can choose to upgrade on 6 of your 9 nights.

VIEW MORE INFORMATION

Send us an enquiry now

Click to View The Itinerary
Day 1 Arrive in Pisa airport where you will be met and transferred directly to your first hotel in Lucca.
Day 2 Lucca to Altopascio
Take time to explore the beautiful fortified town of Lucca in the morning if you haven't already done so as it is well worth an exploration, plus the walk to Altopascio can be achieved even by departing at midday. The route today is flat and easy going all the way to Altopascio, known fondly as the 'town of bread' due their ancient bread making traditions.
Ascent: 132m. Descent: 135m. Distance: 11.5 miles. Time: 5 hours.
Day 3 Altopascio to Fucecchio
This is a very pleasant day of easy walking with few road surfaces to encounter. A particularly beautiful stretch follows an ancient cobbled road through shady woodland leading to an interesting fortified 16th century Medicean bridge over the canal.
Ascent: 135m. Descent: 160m. Distance: 11.75 miles. Time: 5.5 hours.
Day 4 Fucecchio to San Miniato
Pass over the Arno River just after leaving the lovely town of Fucecchio and continue along ancient paths past farmland. You will soon reach the stunning town of San Miniato, your home for the night. There is plenty to see in this historical hub whilst sampling their renowned white truffles!
Ascent: 140m. Descent: 20m. Distance: 6.25 miles. Time: 3 hours.
Day 5 San Miniato to Gambassi Terme
Today you follow a charming path passing olive groves and vineyards over classic Tuscan rolling hills. Whilst continuing on this Sigerico route (Sigeric the Archbishop of Canterbury) you meet two 'parsonages', the Piece of Coiano which is in poor condition and the Pieve in Chianni which has now been transformed into a hostel. A short climb brings you to Gambassi Terme, a hilltop town best known for its spa and hot springs where you spend the night.
Ascent: 820m. Descent: 660m. Distance: 15 miles. Time: 6 hours.
Day 6 Gambassi Terme to San Gimignano
Enjoy another day of fine walking, especially in the second half of the day as the landscape of famous Chianti vines and olive groves begins to incorporate forest, fine houses and a monastery. Approaching San Gimignano you will soon spot the impressive town towers which are quite famous. On arrival you may wish to visit the museum of San Gimignano which has a fascinating reconstruction of how the town once looked many years ago.
Ascent: 477m. Descent: 467m. Distance: 8.75 miles. Time: 4 hours.
Day 7 San Gimignano to Colle Val d'Elsa
This is one of the most beautiful routes of the Via Francigena as you walk through pleasant olives groves and cypresses up to the charming village of Montecchio. Relax in the evening soaking up the atmosphere of the central Piazza of Colle Val d'Elsa.
Ascent: 235m. Descent: 360m. Distance: 11 miles. Time: 5.5 hours.
Day 8 Colle Val d'Elsa to Monteriggioni
Begin your day along tree-lined roads before ascending to the wooded hill of Montagnole. Continue on to Abbadia with its wonderful architectural structure before reaching the unique hilltop village of Monteriggioni and its unmistakable tower crest.
Ascent: 240m. Descent: 85m. Distance: 8.5 miles. Time: 4.5 hours.
Day 9 Monteriggioni to Siena
Your final stretch today takes you to the village of Funghaia and its church with frescoed interior, along pleasant paths to an ancient abandoned medieval village and onwards to the castles of Chiocciola and Villa. You will soon reach your long-awaited destination of Siena, a UNESCO World Heritage Site and a real gem of Italy.
Ascent: 585m. Descent: 540m. Distance: 13 miles. Time: 6 hours.
Day 10 Depart. Take the train from Siena to Pisa airport (included), changing to the airport bus in Pisa City (payable locally).
Alternatively, choose to extend your trip by adding a couple of extra nights in Siena, the heart of Tuscany. Designed as a work of art to blend in with the stunning Tuscan landscape, this architecturally gifted city is as colourful today as it was in the 17thcentury with much to see and do, and eat!
Of course, you can also continue your journey by walking on into Rome and gaining your Testimonium, certificate of Pilgrimage to Rome!

See more sections of our Via Francigena Pligrimage here.

Send us an enquiry now

Click to View When it's Best To Go
The best times to experience this walk are in Spring and Autumn. April, May and June have lovely warm weather and blooming flowers, whereas September and October offer stunning gold and red landscapes, all beautiful in their own way. July and August can be very hot, too hot to walk and the hotels also get fairly full within the high season.

Send us an enquiry now

Click to Find Out How To Get There
The most convenient airport for your arrival is Pisa. You will be met here and transferred directly to your first hotel in Lucca (30 minutes - included).
On your return, you will need to take a short taxi from your hotel in Siena to the train station (payable locally – approx. €10 / £9 / $13), then take the train from Siena to Pisa City (2 hours - included). From Pisa City, a 10 minute bus journey is required to get you to the airport (payable locally).
Alternatively, you can request a private car transfer from your last hotel in Siena directly to Pisa airport at a supplement.

Send us an enquiry now

Pricing Details
Prices displayed in Sterling. View prices in £GBP | View prices in $USD | View prices in €EURO
Via Francigena – Lucca to Siena

2020
All Pilgrim prices include:
9 nights in a choice of standard or higher grade accommodation
Hotel information and useful notes
Private car transfer from Pisa airport to first hotel in Lucca
Train from last hotel in Siena to Pisa City
Our unique walk booklet written by one of our team from personal experience walking this stage
Experience of a pilgrim specialist consultant arranging the right trip for you
All documents sent to your home in advance of travel
24 Hour support line, manned by English speakers
General useful notes for your journey
Optional (see prices below):
Flight arrangements to/from Pisa (can arrange flights from most UK airports dependent on availability)
Supplement per person for dinner on 7 nights (not available at 2 hotels), recommended to ensure a meal is available at the end of a long day
Baggage transfer between hotels, so you walk with just a day pack
Supplement per person to upgrade to higher grade accommodation on 6 of your 9 nights
Supplement per person to substitute included train ticket from last hotel in Siena to Pisa City for private car transfer from Siena hotel direct to Pisa airport
Not included:
Shuttle bus between Pisa airport and Pisa City (approx. €3 / £2 / $4)
Taxi from last hotel in Siena to train station (approx. €10 / £9 / $13)
Lunch and drinks with meals
Prices are per person
Prices in US Dollar (USD), Australian Dollar (AUD), Canadian Dollar (CAD) and New Zealand Dollar (NZD) include all bank charges and costs of couriering documentation to your home. This enables you to study them before you set off and gives you peace of mind as you will not have to worry that the documents will not be at your first hotel.
Prices Include Following
GBP
USD
AUD
CAD
NZD
Standard Grade (9 nights)
Bed and Breakfast based on two sharing a twin/double room plus private car transfer from Pisa airport to first hotel and rail ticket from last hotel to Pisa City
659
971
1226
1215
1296
Supplement per person for 7 nights Half Board/MAP
170
239
298
298
315
Single room supplement per person
259
363
454
454
480
Baggage transfers from hotel-to-hotel per person
125
176
219
219
232
High season supplement per person for 9 nights (July & August)
30
43
53
53
56
Higher Grade (9 nights)
Bed and Breakfast based on two sharing a twin/double room plus private car transfer from Pisa airport to first hotel and rail ticket from last hotel to Pisa City
759
1111
1401
1390
1481
Supplement per person for 7 nights Half Board/MAP
231
324
405
405
428
Single room supplement per person
284
398
498
498
526
Baggage transfers from hotel-to-hotel per person
125
176
219
219
232
High season supplement per person for 9 nights (July & August)
50
71
88
88
93
Flights from UK
Approximate cost of return flights
140
to/from Pisa
Private Transfer Supplements
Transfer from last hotel in Siena to Pisa airport (per person based on 2 sharing)
149
209
366
641
1186
SJ03/U041-A571-C571-N581

Send us an enquiry now

Click to View General Information

Send us an enquiry now |

View all walking holidays in Via Francigena - Stages