Siena to Rome - Hotel to Hotel Trek
The Walking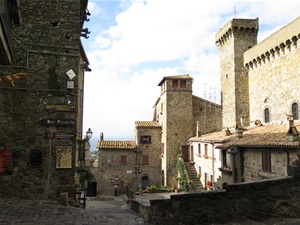 Walking this section of the Via Francigena involves average daily distances of approximately 10 miles and follows well marked paths with good surfaces. We provide a step by step guide to the trek and location of your overnight hotel along with other supporting notes such as language and history. The itinerary below has a brief summary of each day along with ascent, descent, distance and time figures.
Self-Guided & Guided
We offer this trek on a self-guided and guided basis. If you are familiar with the Camino de Santiago, you will know that it is well way-marked and there is no real need for a guide. In contrast, the Via Francigena is less well way-marked (although our route notes and maps provide you with the information you need) and we can recommend a local guide, certainly for larger groups who would enjoy some extra assistance and local knowledge. Please enquire for a guided walking supplement.
Baggage Transfers
Luggage can be transported from hotel-to-hotel enabling you to travel with just a day rucksack. Unlike our other treks, baggage transfer is an optional extra as many Pilgrims prefer to travel light and carry their own. There is a limit of 20kg per bag. See prices below.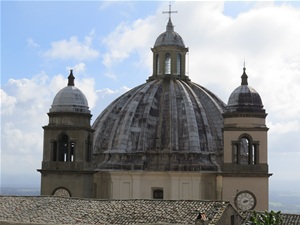 Variations
Our basic itinerary can be varied when possible. You may take rest days in one of the existing stops or stay longer in some of the delightful villages if you wish. You can also combine two days into one if you are happy with walking longer distances. Just contact us with your wishes and we will provide a quotation.
Moderate (due to distances). Total ascents = 4744m. Total descents = 4883m. Total distance = 176.5 miles / 282km.

Send us an enquiry now

Click to View Accommodation Details
Your hotels have been selected to be friendly, welcoming and comfortable.
We offer standard and higher grade hotel options all of which have private bathrooms. Our standard grade accommodations are generally 2-3* in category. The higher graded options utilises superior accommodation (where available) that is generally 3* hotels or good quality agriturismos. You can choose to upgrade on 14 of your 16 nights.

VIEW MORE INFORMATION

Send us an enquiry now

Click to View The Itinerary
Day 1 Arrive in Pisa airport where you take the quick shuttle bus to the train station (paid locally) and then the train to Siena (included) where you need to take a short taxi to your first hotel (paid locally).
If you arrive in Siena with some time to spare, you can visit the stunning 12th century cathedral along with its unique octagonal pulpit regarded by many as a true masterpiece. Siena is a great place to have an extra night or two.
Day 2 Siena to Lucignano d'Arbia Leaving the wondrous sights of Siena, this is a long but fairly easy going day initially passing through rolling countryside before the path becomes flatter as it follows the Via Cassia. At the end of your day, gentle landscapes welcome you into Lucignano d'Arbia.
Ascent: 125m. Descent: 245m. Distance: 14 miles. Time: 5 hours.
Day 3 Lucignano d'Arbia to Buonconvento Continue through beautiful rolling countryside as you enjoy picturesque Tuscan scenery, relax as you embark on your pilgrimage journey.
Ascent: 330m. Descent: 125m. Distance: 8 miles. Time: 3.5 hours.
Day 4 Buonconvento to San Quirico d'Orcia Today is a very beautiful section of the Via Francigena! You pass through fine Tuscan landscapes complete with castellated hilltops, rolling vineyards, monumental wineries, expansive views and best of all… wine tastings for the lone pilgrim (or not alone).
Ascent: 535m. Descent: 250m. Distance: 14 miles. Time: 5.5 hours.
Day 5 San Quirico d'Orcia to Gallini Your walk today continues with enchanting views of Val d'Orcia. You will reach the beautiful village of Bagno Vignoni with its extraordinary thermal pool in the square which is certainly worth a short stop. The rest of your walk crosses over streams through light woodland and rolling countryside.
Ascent: 195m. Descent: 350m. Distance: 10 miles. Time: 4.5 hours.
Day 6 Gallini to Radicofani Continue along country lanes with a fairly demanding ascent into Radicofani, however you are rewarded with very beautiful surroundings.
Ascent: 160m. Descent: 180m. Distance: 10 miles. Time: 4.5 hours.
Day 7 Radicofani to Ponte a Rigo/La Sforzesca You follow the slope from Radicofani along the old Via Cassia, one of the most intriguing paths along the Via Francigena, surrounded by boundless hills and Mount Amiata.
Ascent: 130m. Descent: 180m. Distance: 10 miles. Time: 4.5 hours.
Day 8 Ponte a Rigo/La Sforzesca to Acquapendente From Ponte a Rigo you walk along the bottom of the charming Paglia valley, again following the Via Cassia before you reach the last short climb towards Acquapendente.
Ascent: 140m. Descent: 50m. Distance: 11 miles. Time: 5 hours.
Day 9 Acquapendente to Bolsena You can take some time to visit the Church of Santo Sepolcro before setting off along gentle paths where you can admire views of Lake Bolsena. As you descend to the volcanic crater, this pleasant route leads you into Bolsena through olive groves, with a backdrop of forest. Bolsena is another great place to have additional nights; both of our hotels here are located right on the Lake - a lovely place to relax!
Ascent: 150m. Descent: 230m. Distance: 13 miles. Time: 5.5 hours.
Day 10 Bolsena to Montefiascone Todays' route offers even more stunning sights of Lake Bolsena as you walk amongst olive groves until you reach the beautiful town of Montefiascone with its panoramic views from the top of the 'Tower of Pilgrims'.
Ascent: 520m. Descent: 235m. Distance: 10 miles. Time: 5.5 hours.

Day 11 Montefiascone to Viterbo
Walking through rolling rural landscapes still in view of the imposing walled town of Montefiascone, Viterbo is approached with the highlight of a welcome bathe in the Bagnaccio thermal pools much favoured in Roman times. Arrival in Viterbo promises the delights of the best preserved medieval town in Lazio and the 13th century residence of the popes. As you wander the streets, every twist and turn provides a feast for the eyes in historical terms. There is also the Papal Palace requiring time.....so much to explore an extra night is well worthwhile.
Ascent: 204m. Descent: 470m. Distance: 11 miles. Time: 5 hours

Day 12 Viterbo to Vetralla
On this part of the Via Francigena you will continue along quiet lanes, passing through vineyards and olive groves with distant lake and hill views making a delightful walk to Vetralla. Explore the small mediaeval quarter before a superb dinner at your accommodations' restaurant.
Ascent: 302m. Descent: 338m. Distance: 9 miles. Time: 5 hours.
Day 13 Vetralla to Sutri
A longer and slightly more demanding walk today through beautiful countryside leading to the walled town of Sutri. A diversion may be made to explore the town before heading to your Agritourismo for the night. For the Via Francigena this is a strange stop. The Via does not pass through the town but it is well worth a visit. However, as the day is long from Vetralla, you may wish to visit the town, the Roman Amphitheatre and the Etruscan Tombs the following morning.
Ascent: 540m. Descent: 538m. Distance: 15 miles. Time: 5 hours.
Day 14 Sutri to Campagnano
Today includes walks through fields, past rivers and great waterfalls, such as Monte Gelato which is thoroughly enjoyable. Not quite so underfoot is the superbly preserved flagged Roman road which eventually leads you to Campagnano di Roma, first mentioned in 1076. As you approach you will see it rising above the landscape; another interesting town rich in history.
Ascent: 525m. Descent: 544m. Distance: 13 miles. Time: 5 hours.
Day 15 Campagnano to La Storta
Your route today passes the Sanctuary of the Madonna del Sorbo before entering quiet, pastoral landscapes. As you continue on to La Storta, you say goodbye to rural life in preparation for your entry to Rome now just 15km away. A fabulous dinner awaits you at the end of this long day.
Ascent: 593m. Descent: 713m. Distance: 15 miles. Time: 6 hours.
Day 16 La Storta to Roma
As you follow the Via Trionfale into Rome you will also walk through two major parks, the Insugherata and Mt Mario at 139m. From here you catch that first breathtaking glimpse of St Peter's Basilica gleaming amidst the sprawling city before you. It's a great place to sit, reflect and prepare for your final steps along the Viale Angelico to the end of your Pilgrimage to Rome.
Ascent: 295m. Descent: 435m. Distance: 12 miles. Time: 5 hours.

Day 17 If you didn't have time to get your Pilgrim Certificate yesterday, you can now go to the Basilica between 09.30 and 12.30 to receive it (closed on Wednesdays and Sundays) or stay an extra night or two to explore this beautiful city. Return to the airport via a short bus journey or we can arrange a private transfer for a small supplement.

Alternative 17 night itinerary to shorten distances:

Days 1 - 12 (same as above)

Day 13 Vetralla to Capranica Ascent: 378m. Descent: 343m. Distance: 10.5 miles.

Day 14 Capranica to Monterosi Ascent: 321m. Descent: 349m. Distance: 11 miles.

Day 15 Monterosi to Campagnano Ascent: 366m. Descent: 390m. Distance: 8 miles.

Days 16 - 18 (sames as days 15 - 16 above)

Please note the price supplement for this 17 night itinerary is an additional £30 per person



Send us an enquiry now

Click to View When it's Best To Go
The best times to experience this walk are in Spring and Autumn. April, May and June have lovely warm weather and blooming flowers, whereas September and October offer stunning gold and red landscapes, all beautiful in their own way. July and August can be very hot, too hot to walk and the hotels also get fairly full within the high season.

Send us an enquiry now

Click to Find Out How To Get There
The most convenient airport for your arrival is Pisa, as you can take a quick shuttle bus into the city (payable locally) then a train from Pisa Central Station straight to Siena which takes approx. 2 hours (included). From Siena train station, you need to take a short taxi to your hotel (payable locally – approx. €10 / £9 / $13).
On your return, you will need to take a short taxi from your hotel in Montefiascone to the train station (payable locally – approx. €10 / £9 / $13), then take the train from Montefiascone to Rome City (included). From Rome City, a 30-45 minute bus/train journey is required to get you to either of the Rome airports (Fiumicino or Ciampino) which is also included.

Alternatively, you can substitute the included bus/train tickets for a private car transfer from Pisa airport to Siena (first hotel) and from Montefiascone (last hotel) to either Rome airports for a supplement.
You can also choose to fly in and out of Pisa or in and out of Rome if these flights suit you better (these options will incur a transfer supplement).

Send us an enquiry now

Pricing Details
Prices displayed in Sterling. View prices in £GBP | View prices in $USD | View prices in €EURO
Via Francigena – Siena to Rome

2020

All Pilgrim prices include:
o 16 nights in a choice of standard or higher grade accommodation
o Breakfast every day and dinner on 5 nights (due to location of accommodations)
o Hotel information and useful notes
o Train/bus ticket from Pisa City to Siena and bus ticket from Rome City to Rome airport
o Our unique walk booklet written by one of our team from personal experience walking this stage
o Experience of a pilgrim specialist consultant arranging the right trip for you
o Walking map
o All documents sent to your home in advance of travel
o 24 Hour support line, manned by English speakers
o General useful notes for your journey
Optional (see prices below):
o Flight arrangements to Pisa and back from Rome (can arrange flights from most UK airports dependent on availability)
o Supplement per person for dinner on additional 9 nights, recommended to ensure a meal is available at the end of a long day
o Baggage transfer between hotels, so you walk with just a day pack
o Supplement per person to upgrade to higher grade accommodation on 12 of your 16 nights
o Supplement per person to substitute included rail/bus ticket from Pisa City to Siena for private car transfer from Pisa airport to first hotel in Siena
o Supplement per person to substitute included bus ticket from Rome City to Rome airport for private car transfer from last hotel to Rome airport
Not included:
o Shuttle bus from Pisa airport to Pisa City (approx. €3 / £2 / $4)
o Taxi from Siena train station to first hotel in Siena (approx. €10 / £9 / $13)
o Lunch and drinks with meals
Prices are per person
Prices in US Dollar (USD), Australian Dollar (AUD), Canadian Dollar (CAD) and New Zealand Dollar (NZD) include all bank charges and costs of couriering documentation to your home. This enables you to study them before you set off and gives you peace of mind as you will not have to worry that the documents will not be at your first hotel.
Prices Include Following

GBP

USD

AUD

CAD

NZD

Standard Grade (16 nights)

11 nights B&B, 5 nights HB based on two sharing a twin/double room & rail/bus tickets from Pisa to Siena and from Rome City to Rome airport

924

1324

1649

1649

1759

Supplement per person for 9 extra dinners

210

294

369

369

389

Single room supplement per person

259

363

454

454

479

Baggage transfers from hotel-to-hotel per person

209

293

366

366

386

High season supplement per person for 16 nights (July & August)

80

112

140

140

148

Higher Grade (16 nights)

11 nights B&B, 5 nights HB based on two sharing a twin/double room & rail/bus tickets from Pisa to Siena and from Rome City to Rome airport

1114

1584

1989

1989

2099

Supplement per person for 9 extra dinners

210

294

369

369

389

Single room supplement per person

329

461

575

575

608

Baggage transfers from hotel-to-hotel per person

209

293

366

366

386

High season supplement per person for 16 nights (July & August)

135

189

229

229

249

Flights from UK

Approximate cost of return flights

130

from UK to Pisa and from Rome to UK

Private Transfer Supplements

Transfer from Pisa airport to first hotel in Siena (per person based on 2 sharing)

90

126

158

158

166

Transfer from last hotel in Rome to Rome airport (per person based on 2 sharing)

25

35

44

44

46

Send us an enquiry now

Click to View General Information

Send us an enquiry now |

View all walking holidays in Via Francigena - Stages