Camino - All the Way - More Information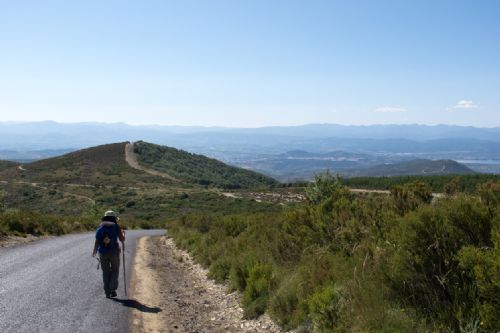 The Experience
Without doubt this journey is about more than the usual joys of walking! The Camino may be walked for religious or non-religious reasons or perhaps just the desire to hop out of the fast lane to reflect on life and refresh the soul. For whatever reason, a very special atmosphere arises from the comradeship quickly established between pilgrims of many nationalities - each walking for their own personal reasons. With our fully flexible stages and accommodation grades you can walk all or part of the Camino – many walk a week each year until completed… and then start over again! The experience is recommended for everyone from Church Groups to the solo walker, all joining together at the Cathedral in Santiago to witness or participate in the daily Pilgrims' Mass – an intensely memorable and moving experience.
The Walking
Walking the Camino involves average daily distances of about 14 miles and follows well marked paths with good surfaces. Some days are longer and where possible we offer a split with accommodation midway. In more remote regions, where accommodation is sparse, this is not always possible and it is necessary to keep on going. We provide a step by step guide to the trek and location of your overnight hotel along with other supporting notes such as language and history. You may wish to spend an extra night in one of the cities exploring its architecture and culture, especially Santiago at the journey's end to relax and reflect on your journey.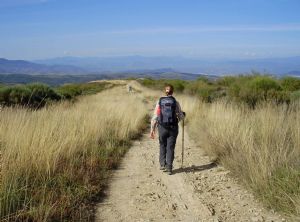 Variations
Our basic itineraries can be varied when possible. You may make the walking days shorter by adding additional nights, take rest days in one of the existing stops or stay longer at the beginning or end to explore the historical and vibrant cities. When available, an upgrade in accommodation standard can be made for those seeking a more luxurious experience, luggage may be transferred or carried and accommodation can be on a room and breakfast basis or with dinner booked (except in cities) to ensure the hungry pilgrim is well fed at the end of a long day. Just contact us with your wishes and we will provide a quotation.
Luggage Transfers
Luggage may be transported from each hotel to the next enabling you to travel with a day rucksack. Unlike our other treks, baggage transfer is an optional extra as many Perigrinos (Pilgrims) prefer to travel light and carry their own. See price section for costs.
St Jean Pied-de-Port to Pamplona – Challenging with Moderate option. Total for standard itinerary:- Ascent 1960m, Descent 1670m, 42 miles.
Pamplona to Burgos - Easy, with long days. Total for standard itinerary:- Ascent 2580m, Descent 1930m, 135 miles.
Burgos to Leon - Easy, with long days. Total for standard itinerary:- Ascent 1250m, Descent 990m, 112 miles.
Leon to O Cebreiro - Moderate, with long days. Total for standard itinerary:- Ascent 1930m, Descent 1570m, 77 miles.
O Cebreiro to Santiago -
Easy
, with long days. Total for standard itinerary:- Ascent 1590m, Descent 2270m, 92 miles.
To view the pricing for this holiday, please scroll down to "Pricing Details" tab below.

Send us an enquiry now

View all our Walking Holidays in Camino - All the Way