Solo Pilgrims
Walking the Camino de Santiago or Via Francigena is the perfect trip for a single person – male or female, and many people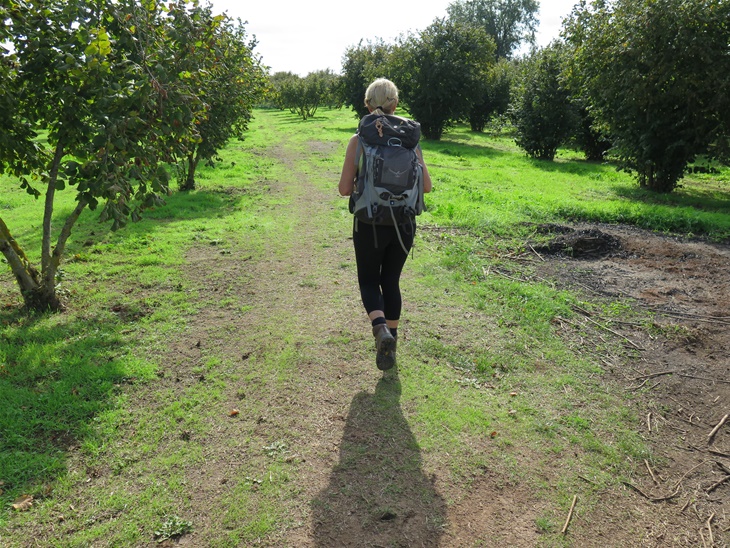 make this special journey alone. One of our team (female) has walked the majority of both routes alone.
Some people are quite happy walking solo. They delight in the thought of undisturbed time to enjoy nature, peace and quiet and to fully immerse yourself in your personal journey, however everyone can experience moments of anxiety when they are uncertain or nervous about a long walk. Consideration should be taken with regards to unpredictable weather or walking through a remote stretch of countryside with few other walkers. However, many of the 250,000 people arriving in Santiago de Compostela each year begin their walk as solo travellers. So, don't let the idea of walking alone put you off. We also offer the added security of our local partners being available 24/7 (in addition to ourselves), we include their emergency telephone number within your travel documents.
Which routes best suit a solo pilgrim?
Around 65% of pilgrims arriving in Santiago come via the French Route, and most begin their journey from either St Jean Pied-de-Port or one of the major towns or cities along the route such as Pamplona, Burgos, Leon, or Sarria. So, if you're starting from one of these points, particularly from May to September, you'll have some company for sure.
The most popular route on the Via Francigena is currently the last section which covers 130km from Montefiascone to Rome. Whilst the Via Francigena is certainly quieter than the Camino de Santiago, you still won't be completely alone for your entire journey as it is becoming increasingly popular.
What are the benefits of walking solo?
Walking solo encourages you to create quick connections and bonds with fellow pilgrims who were complete strangers a short while ago. Sharing stories with these like-minded pilgrims whilst you walk or around the dinner table in your accommodation adds authenticity to your trip and creates some very memorable experiences to take home with you. You also have complete freedom to begin and end the day whenever you like (as long as you arrive at your next accommodation before dinner!) and when planning your itinerary, we can assist you to make the best decisions for yourself on where to begin and end your pilgrimage without depending on anyone else's plans/views.
Is going solo the right choice for me?
Firstly, you should put some time into thinking about your preferred walking style. Do you prefer solitude and quiet contemplation or is ambling along, chatting and long leisurely lunches your favoured style? Do you walk quite slowly or do you prefer to use the entire day walking? If you don't already know, you could trial this on some of your local walks by yourself and also with a walking companion. You will soon realise if solitude and walking at your own pace is what you seek or you will recognise that you would favour a walking partner, by this time you will know what to look for to find someone who suits your walking style. Your perfect walking partner may just be yourself.
Is embarking on a solo pilgrimage safe?
We can't 100% guaranntee this unfortunately, however, if we were to vote for our 'safest' trips, our Pilgrimages in Spain and Italy would come up top. This is due to the sense of community pilgrims have for each other, each person cares for the next and will always offer help if needed. Also, these pilgrimages aren't particularly remote and nearly always have other walkers along the paths; some sections can actually become quite lively depending on the time of year you visit. However, we know that everyone can experience moments of anxiety when they are uncertain or nervous about a long walk over hills with potentially few other walkers. In these circumstances, it is best to acknowledge your anxiety and seek the company and security of other walkers. You will not be along in feeling this way and other pilgrims are very understanding and supportive. It may be a good idea to ask other walkers if you can join them for the day or just for a stretch of the path you're uncertain about. Alternatively, you could walk just within sight of other pilgrims for added support.
Just remember that you are only as alone as you choose to be on your Pilgrimage. Many people start out walking alone either by choice or by circumstance and develop wonderful friendships along the way. Don't let being a solo traveller stop your adventure and don't be afraid to meet new faces on your journey!